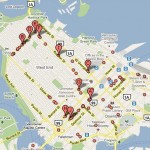 If you're going to succeed in business in the information age, you need to establish a presence on the World Wide Web. And that presence has to start with a website.
Why?
Because every single day hundreds or thousands of people in your local market turn to their computers and mobile phones to search the Web to find businesses that sell the types of products and services you sell.
Nearly Fifty Percent of Small Businesses Do Not Have a Website
According to a study by Ad-ology, 46% of small business owners do not have a website. This means two things:
If you're in the "have-not" category, you are literally giving away business – a lot of it – to your competition
If you're in the "have" category, you've got a huge advantage over half of the businesses you compete against
As you're going to see, there are thousands of reasons – in the form of people searching for information, answers, and solutions – why you should jump ship from the "have-not's" to the "have's."
Dramatic Rise in Search Engine Usage
The thing is that unless you have a solid presence on the Web – in the form of your own website – that you are actively promoting, there is just no way that anybody who is searching for a local business to buy from will find their way to you.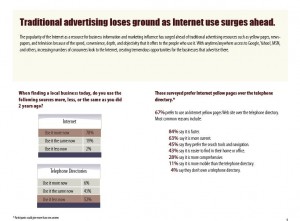 It's only going to get worse for businesses without websites – as search engine usage continues to increase dramatically and usage of other sources of information – most notably the Yellow Pages – remains flat or declines. In fact according to a WebVisible/Nielsen NetRatings Survey, 78% of the respondents said that they use the Internet to find local businesses more now than in the past.
Online Search Drives Offline Buying
And if you think that the Internet is really only for online businesses, think again.  A Google-sponsored, comScore.com study on the influence of online search on offline buying behaviour found that 25% of the people who used search engines purchased items directly related to the search terms they used – of whom:
37% completed their purchase online
63% followed up their online search with an offline purchase
Think about yourself. How often do you use Google or another search engine to find a business – a doctor, a realtor, a hardware store, a spa, a restaurant, and so forth – in your area that you end up visiting and doing business with?
Get a "Cadillac Website" on a Beer Budget in Just a Few Days
If you don't have a website right now – or if you've got a website that you're unhappy with – you don't need to hire an expensive design firm, shell out thousands and thousands of dollars, and wait weeks or months before things "go live."
Instead you can retain me to build you:
A great-looking website that has
Heaps of functionality and is
Extremely  easy to use and maintain and can be
Ready in days and is
Affordable on even the most limited budgets
It's really that simple because I do it the easy way: I use WordPress for every website I build because WordPress makes it easy to build great-looking websites that can do a lot of cool things (this website – like all of my websites is built on the WordPress platform).
Promotion is Key to Success
Of course, having a website is really just the beginning. Unless you promote it effectively, no one will find it. Fortunately, my experience and expertise really shine in the area of marketing in general and website promotion in particular:
Mobile marketing
Email marketing
Offline marketing
So now that you know that you must have a website and that it's going to be a painless process for you and your accountant, contact me today for a free consultation.